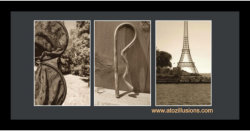 While at a show in Yorkton I sold the word BRA, and yes, the first letter is a Bra, to a shop called Under the Covers. Under the Covers is owned/operated by Phobee Decelles with store representatives Lola Toppi, and Vanessa Miles.
They tell me "A staggering number of women are wearing the incorrect BRA size. We help you find the perfect fit. BRA fittings are quick easy and free."
Lola purchased the framed word BRA to hang in their store, and when in place they will be forwarding a photo to share.
What is your favorite or most unusual word you could frame?