Personalized Photographic Words
…or choose from a selection of ready made designs!
Hailey and her Lettergraph Name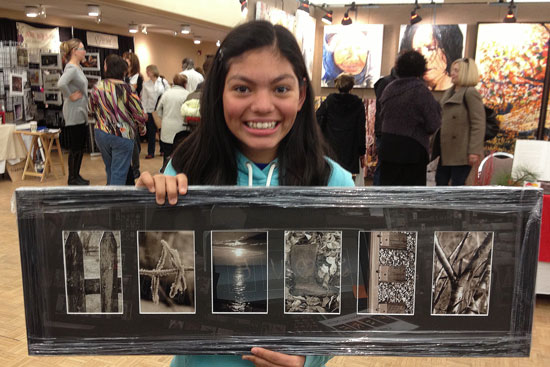 My new friend Hailey at our show booth looking delighted with her framed creation of letters spelling her name.

Hailey had so much fun at our booth giggling and laughing while selecting just the right letters from a choice of over 500.

The hardest letter for Hailey to select was the "E" from a choice of 30 different ones, eventually settling for the Railway "E" to balance with her initial "H" from a picket fence.

Photo by David The Letterman www.atozillusions.com
Video Testimonial for David the Letterman's Alphabet Photography Letters

Have your word, your way with over 1000 letter photos from A to Z Illusions – just start typing a word to see it transformed into photographs before your eyes!
Your design can be optionally framed ready for hanging on the wall, making it an ideal decoration for the home. Framed designs measure 12" high and vary in width depending on the word. (Please note – frames not yet available from UK)
The letters themselves are 6" x 4".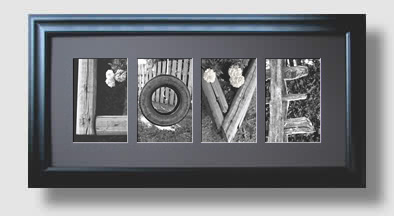 Smaller items are also available in various formats, including mini posters and fridge magnets, each with an inspirational word formed from photos of everyday objects. A series of greeting cards featuring A to Z's letter photography is on sale for most popular occasions.
If you'd like to know more about A to Z Illusions, you can find out how the letter photo idea came about, together with details of the photographer, David Matthews. You can also see what people say about us from our archive of customer comments and press coverage.
Laura Reavie, Producer, Shaw TV – Lettergraphs
Since this video was made a while ago the library of images is well over 1000!!
Testimonials
My husband passed away on April 11, 2011. When my birthday rolled around later in the month, my girlfriend gave me the gift of a frame with my husband's name spelled out in pictures of naturally occurring letters found in nature. This thoughtful and unique gift has continued to bring up wonderful memories of my husband…..MORE
This man has truly one of a kind gift. I have never seen anything like it. My first time seeing him was at a craft show in Winnipeg and when I walked by his booth, it stopped me in my tracks. I was with my Mother and I looked over at her and saw a smile on her that I haven't seen in such a long time…..You will be a part of me now forever……(More)

Maureen S
Love the framed lettergraph…..It will make a great Christmas gift!……(More)

Debbi B
We loved your unique letters. Made a great sign for my business…..I'm sure my customers will love this unique sign…..(More)

Gisele K
Alphabet Art and Photography are now available through our UK outlet.
New details have been added to our Contact Page.