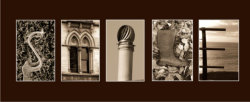 Serving three people at once and putting words in frames at our last show, among the hustle bustle, I glanced up to notice one lady standing in the centre aisle, motionless.


Standing statuesque among the throng of people, only the lady's eyes moved looking from one framed word to another on  my backdrop display. Tears were running down each of her cheeks, as a slow smile came to her face.
Concerned for the lady, I asked if she was alright and if I could help. Stepping forward and holding onto the table she sighed wiped her eyes and replied "Yes, your work has taken my breath away and moved me, I adore sophisticated art, I have never seen anything like this so original and beautiful with so many possibilities."
To my knowledge my art has never moved a person to tears before; it is nice to be appreciated for all the time and work involved in the creative process.
The lady composed herself and was very excited to look through the selection of photo letters. "Inspirational" she muttered "truly inspirational", as she began showing others around her the letters she was selecting.
The first word was "Smile" which I framed for her, she then went on to choose other letters and words for gifts this Christmas, and the last name of a friend getting married on Christmas Eve.
She assured me the tears were for joy and amazement and I now have a customer for life.
Thank you Sheila.