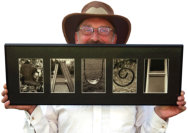 Your Word -Your Way
David has spent his entire career in photography including Photojournalism and industrial commercial photography. Over the past few years he has enjoyed compiling a library of to date over two thousand alphabet photographs of everyday objects taken from different angles to capture letters and reproduces them in sepia 4 x 6 prints.
David reflected "The idea is not an original one, it is something I did thirty odd years ago for fun family and friends. It was when volunteering at the local school and the literacy programme when a student was having troubles forming the shapes of letters I invented a little game to find letters among the desks and chairs of the classroom. That was the Ahaa moment recalling the past and approaching the subject from a different angle""
The story of Lettergraphs…..
Original unique and personal are three words that seldom go together, photographer David Matthews has captured that and more with his imagination and talents as a photographer and has just launched his new line which he calls "Lettergraphs" These can be seen on his web site www.atozillusions.com. On this user-friendly site it enables you even if you think you have not got a creative bone in your body to create your own name or special word.
Since the launch or his web site the response has been wonderful David said "I am now sending L-O-V-E and H-A-P-P-I-N-E-S-S to customers from every corner of the world".
Some letters are infinitely tougher to find than others. While "Q" is surprisingly easy to find anyone with a lead on capital "R" and "Z" is welcome to contact him. The word LOVE has proved very popular runner ups are first and last names as well as inspirational words like "Laugh Smile and Hope'
Friends family and customers are now looking out for letters and phone me to say, "Hey David there is a great "A" at such and such a place". The library is forever expanding, and you can create your own on the website www.atozillusions.com and keep up with the latest letters and places they will be setting up their exhibition boothon Face Book fan page.
Further details can be obtained emailing on site www.atozillusions.com or connecting via the contact page here.
David Matthews